Day 11...Ahoy !!
And we are at sea today..bronzed Goddess here I come..lmao...time 2 burn again more like....tbh I really need to keep the factor 50 topped up.... (factor 50 lol who am I tryin to kid....but I'm definitely going to try not to get burnt today....lovly lobster is not a good look!!!!!)

Sunbed sorted. . ( mr b said WE need to get up early if we've any hope of getting a sunbed)
lol....so here I am!!! yep boys still in the land of nod!!
Nxt job my lovly mornin coffee. .......
It dont get much better (unless ov course I had all the family here too, mayb nxt time )....sippin coffee whilst sailing across the Med...with just the slightest sea breeze to keep you cool...Thank u dont mind if I do
might even take a dip in the hot tubs.
..
Time for breakfast wiv Mr B... (believe me when I say its more like a buffet banquet..yes you have to serve yourself but the choice n quality is fantastic...could be why I've put half a stone on ...n I thought I was showing self control!!! Almost impossible 2 resist this array of delicious culinary delights....) might even wattch a bit of tv by the pool!!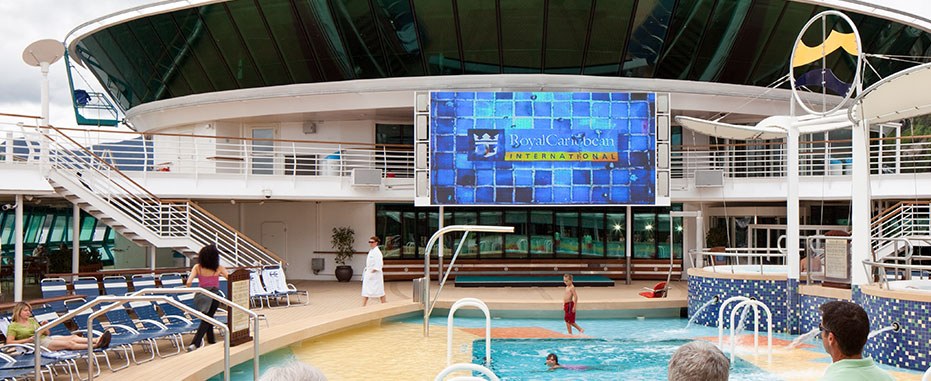 Lazin..grazin...Amazin. ..all day!
now I've actually got to do somethin...shower and get ready for tonites show!
Well that was a show. ..the hypnotist was amazin. ...laughed til my jaw ached...got the volunteers to act like a Washing machine, got them to be a jockey on an imaginary horse, lmao. so funny

The next show The Quest was really good too. very entertaining..then 2 top it off a guy we met on the cruise wanted 2 fifht the Mexican! ( 2 much drink...not enuf food. .loosin in the casino= PARANOIA ) all inc drinks package av definitely had a bearing on the type of people who cruise ..another passenger that cud end up gettin an early exit from the shio!!!